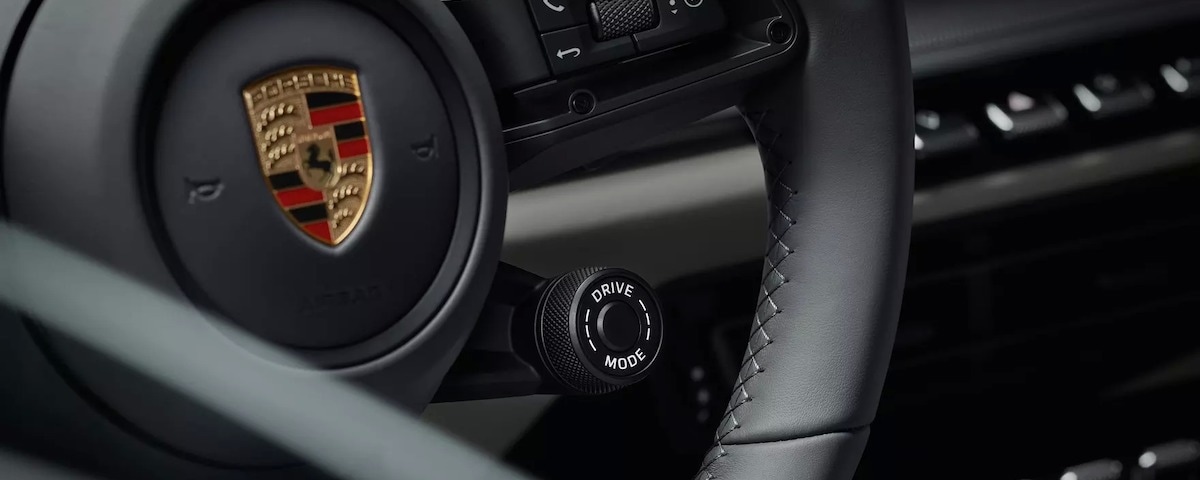 What Are the Available Porsche Driving Modes?
There are currently five available Porsche driving modes: Normal, SPORT, SPORT+, Individual, and WET. There are also two additional driving modes available on E-Hybrid models: E-Power and Hybrid Auto. Selectable Porsche driving modes are available with the Sport Chrono Package. With this package, the steering wheel will receive a knob in the lower right corner that you can turn to easily select your preferred driving mode. Driving modes can also be selected via the Porsche Communication Management system if you choose.
While many new cars feature different driving modes, few offer such a variety of modes allowing you to completely change your vehicle's driving dynamics to get the most out of your current situation. Whether you need a more comfortable driving mode for your commute into Bellevue, a sportier mode for spirited drives through your local back roads or a driving mode that you can customize to your exact specifications, a new Porsche with the Sport Chrono Package will always be best suited for your driving conditions. Below we've highlighted all of the available Porsche driving modes:
Porsche Driving Modes Explained
Normal: The 'Normal' mode is the default driving mode that's ideal for commuting or more comfortable cruising. When selected, the throttle response is a little slower, and shifts happen sooner, the suspension is softer, sport exhaust valves will close, and start/stop stays active.
SPORT: The 'SPORT' mode is your perfect driving mode for more spirited drives through backroads or canyon passes. When selected, throttle response and shifts are sharper, the suspension is stiffer, sport exhaust valves will open, and dynamic engine mounts will engage.
SPORT+: The 'SPORT+' mode is your go-to driving mode for track days or simply experiencing all of the performance your Porsche has to offer. The throttle response is instantaneous, shifts are lightning fast, and the overall steering and suspension feel is tight and responsive.
Individual: The 'Individual' mode is for those who want to customize the various settings to their liking. If you want the 'Normal' soft suspension without losing the sharp shifts and throttle response you get with 'SPORT+,' or you want all of the comfortable 'Normal' settings but with the 'SPORT' exhaust noise, the 'Individual' setting is for you.
WET: The 'WET' driving mode, as the name implies, adjusts the vehicle's settings to help you drive better in the rain and adverse conditions. This mode is currently only available on the new 2020 Porsche 911.
E-Power: The 'E-Power' mode allows for an all-electric driving experience. When you need more power, the combustion engine will automatically switch on. This mode is currently only available on the E-Hybrid Cayenne and E-Hybrid Panamera models
Hybrid Auto: The 'Hybrid Auto' mode will automatically select either the electric motor, the combustion engine, or both to power your Porsche depending on the situation. This mode is currently only available on the E-Hybrid Cayenne and E-Hybrid Panamera models
SPORT Response Button
In addition to being able to choose your preferred driving mode, the mode selector knob on the steering wheel features a button in the middle that engages 'SPORT Response'. This feature primes the engine and transmission for a surge of power and responsiveness for 20 seconds. If you need to overtake someone and want a little boost, press this button for maximum performance.
Learn More About Porsche Driving Modes
The Sport Chrono Package allows you to select the Porsche driving mode that best fits your current driving conditions. For more information on available Porsche driving modes, or any other Porsche features, feel free to contact us at 425-412-4114 to speak with one of our knowledgeable teammates. While you're here, be sure to browse our current inventory of new Porsche models with the Sport Chrono Package!